HAZMAT SHIPPING IS
COMPLICATED AND RISKY
Two 1 Quart Cone Top Can & 1 Gallon Paint Can with Hazloc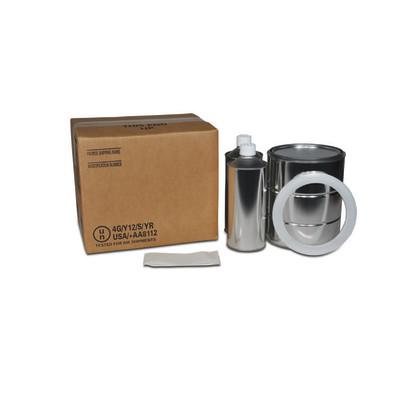 Two 1 Quart Cone Top Can & 1 Gallon Paint Can with Hazloc
Stock #: UN1631
For pricing call: 800-923-9123
Hazmatpac's UN1631 two (2) one-quart cone top can box that also holds a one-gallon paint can that comes with a lid and Hazloc ring. This Y-rated cone top can box is perfect for when you need to ship a one-gallon paint can for mixing of epoxies, resins, paints, adhesives, and etc.
The complete shipping kit comes with:
(2) one-quart metal cone top cans (narrow mouth or wide mouth)
(1) one-gallon paint can with lid
(1) Hazloc ring
(1) tape to close the box
This kit comes fully assembled and ready to go. The closing instructions are on the closing flaps. You can also request that it ship flat. It holds a UN rating of 4G/Y12/S/**/USA/+AA****.
If you're seeking just the outer cone top can box with partition and the Hazloc ring, with no cans or tape, please request/order SKU #UN1630.
Hazmatpac is your single source supplier for hazardous materials packaging. It's all we've been doing for over 30 years. Our team is trained as hazardous materials packaging specialists. If you're regularly shipping epoxies, resins, paints, and adhesives, then our cone top can box selection will provide you extensive options, and our team is unparalleled in helping our customers find exactly what they need to ship hazardous materials.
If you have questions about how this two cone top cans and one paint can box works and what's included, or need assistance finding alternative hazmat packaging, give us a call at 800-923-9123 or contact us online.
Two 1 Quart Cone Top Can & 1 Gallon Paint Can with Hazloc
Name
Two 1 Quart Cone Top Can & 1 Gallon Paint Can with Hazloc
Hazmatpac Category
Paint Can Shippers
Country of Origin
USA
UN Rating
4G/Y12/S/20/USA/+AA8112
Case Qty
2
Case Dimensions
11.5 in x 8.125 in x 10 in
Case Weight
2.75 lbs
EXPERTS GET IT RIGHT EVERY TIME.
"Your company offers easy and ready-to-go packaging for us to do it safely and securely. This has cut down our preparation time significantly. In addition, your representatives are very knowledgeable and understand well what we need. The responsiveness, professionalism, and commitment that Hazmatpac offers to its customers deserve to be commended. "
JOHNNY YU, NEPSCO, LLC
CONTACT THE EXPERTS FOR QUESTIONS OR PRICING.
Call: 800-923-9123