HAZMAT SHIPPING IS
COMPLICATED AND RISKY
1 x 1 Liter Special Permit Exemption Packaging (empty)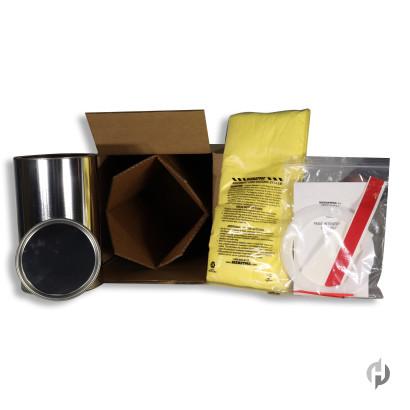 1 x 1 Liter Special Permit Exemption Packaging (empty)
Stock #: UNE127
For pricing call: 800-923-9123
Hazmatpac is the specialist in special permit packaging. Since 1991, Hazmatpac has offered hazardous material special permit packaging to customers looking for a solution that was easy to use and easy to assemble. This kit is used by many industries that ship a toxic class 6 product or sample as required by FedEx and UPS.
When HM-181 was introduced, Hazmatpac was founded to avoid stiff fines and out-of-compliance shipping. We utilize the world's most rigorous third-party testing on all Hazmatpac shipping products, including this special permit packaging kit.
This kit comes with a variety of inner containers, glass, plastic or metal. The UNE127 special permit packaging requires no inner container if you have your own hydrostatic tested container. If you utilize your own container, the maximum size is one liter or less. The kit is unique in that it uses a lightweight absorbent lined bagging system and an inner partition that suspends the bottle in a can in the center of the box. It also has a diamond shaped partition protecting it from damage on all sides. It's the safest packaging kit on the market for toxic class 6 product shipping.
DOT labeling: The box is marked with our DOT-SP-11248 approved DOT ID and UN certification number and orientation arrows on two sides. No hazard label is required for hazard classes 3,4,5,6,8 and 9. It meets UN ratings 4GV/X5.8/S/YR/USA/+AA****. If you require additional labeling, please call one of our representatives or
contact us online
.
Tare weight: 3.95 lbs.
Shipping and storing hazardous materials is a dangerous business. It's also highly regulated. Don't take the chance of getting your special permit packaging wrong. If you're unfamiliar with hazardous materials shipping or need more information about this special permit packaging kit, our experts can walk you through the nuances of both. For pricing call: 800-923-9123.
1 x 1 Liter Special Permit Exemption Packaging (empty)
Name
1 x 1 Liter Special Permit Exemption Packaging (empty)
Hazmatpac Category
Exemption Packaging
Country of Origin
USA
UN Rating
4GV/X5.8/S/20/USA/+AA6898
Case Dimensions
10.5 in x 10.5 in x 18.25 in
Cell Dimensions
5.5 in x 5.5 in x 9.75 in
Height
10.5 in
Case Weight
3.95 lbs
Cell Count
1
Closing Tool
W533
EXPERTS GET IT RIGHT EVERY TIME.
"Dhake Industries has been doing business with Hazmatpac for 16 years. They have always provided excellent customer service and great turnaround time."
S. DHAKE, DHAKE INDUSTRIES
CONTACT THE EXPERTS FOR QUESTIONS OR PRICING.
Call: 800-923-9123