HAZMAT SHIPPING IS
COMPLICATED AND RISKY
PostalPac 1 x 16 oz Amber Wide Mouth Packer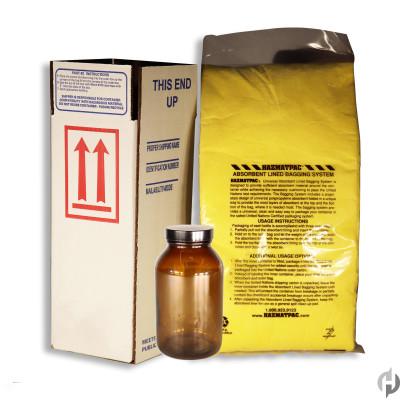 PostalPac 1 x 16 oz Amber Wide Mouth Packer
Stock #: PP53
For pricing call: 800-923-9123
Hazmatpac's 1 x 16 oz Amber Wide Mouth PostalPac meets USPS regulations for shipping hazardous materials. It is also tested for limited quantity and meets FedEx and UPS standards. Due to the great value of this kit, customers frequently use it for shipping expensive products that are non-hazardous.
PostalPac 1 x 16 oz Amber Wide Mouth Packer
Name
PostalPac 1 x 16 oz Amber Wide Mouth Packer
Hazmatpac Category
PostalPac Packaging System
Capacity
16 oz
Material
Glass
Country of Origin
USA
Style
Packer (Wide Mouth)
Case Dimensions
5 in x 4.875 in x 11.875 in
EXPERTS GET IT RIGHT EVERY TIME.
"Your company offers easy and ready-to-go packaging for us to do it safely and securely. This has cut down our preparation time significantly. In addition, your representatives are very knowledgeable and understand well what we need. The responsiveness, professionalism, and commitment that Hazmatpac offers to its customers deserve to be commended. "
JOHNNY YU, NEPSCO, LLC
CONTACT THE EXPERTS FOR QUESTIONS OR PRICING.
Call: 800-923-9123