HAZMAT SHIPPING IS
COMPLICATED AND RISKY
PostalPac 1 x 1 Quart Oblong Metal Can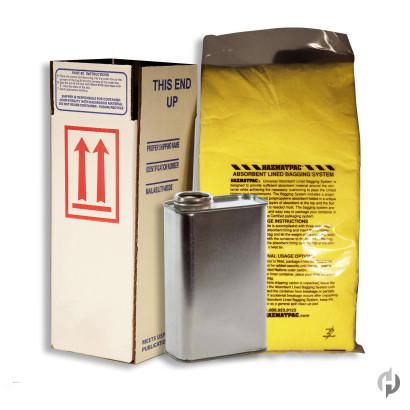 PostalPac 1 x 1 Quart Oblong Metal Can
Stock #: PP64
For pricing call: 800-923-9123
Hazmatpac's 1 x 1 Quart Oblong PostalPac meets USPS regulations for shipping hazardous materials. It is also tested for limited quantity and meets FedEx and UPS standards. Due to the great value of this kit, customers frequently use it for shipping expensive products that are non-hazardous.
PostalPac 1 x 1 Quart Oblong Metal Can
Name
PostalPac 1 x 1 Quart Oblong Metal Can
Hazmatpac Category
PostalPac Packaging System
Capacity
1 qt
Material
Tin
Country of Origin
USA
Style
Oblong
Case Dimensions
5 in x 4.875 in x 11.875 in
EXPERTS GET IT RIGHT EVERY TIME.
"Hazmatpac supplies many of our shipping needs. Their conscientious staff is easy to work with and quick to respond."
VAUGN SLABAUGH, MARATHON PETROLEUM COMPANY
CONTACT THE EXPERTS FOR QUESTIONS OR PRICING.
Call: 800-923-9123