HAZMAT SHIPPING IS
COMPLICATED AND RISKY
PostalPac 1 x 1 Liter Heavy Duty Aluminum Bottle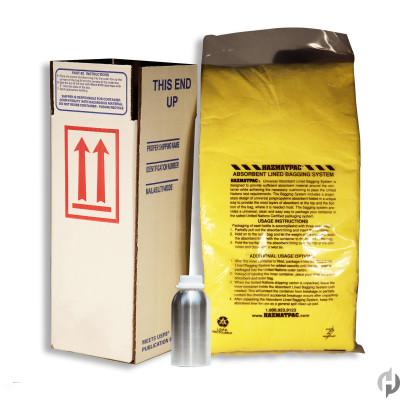 PostalPac 1 x 1 Liter Heavy Duty Aluminum Bottle
Stock #: PP74
For pricing call: 800-923-9123
Hazmatpac's 1 x 1 Liter Aluminum Bottle PostalPac meets USPS regulations for shipping hazardous materials. It is also tested for limited quantity and meets FedEx and UPS standards. Due to the great value of this kit, customers frequently use it for shipping expensive products that are non-hazardous.
PostalPac 1 x 1 Liter Heavy Duty Aluminum Bottle
Name
PostalPac 1 x 1 Liter Heavy Duty Aluminum Bottle
Hazmatpac Category
PostalPac Packaging System
Capacity
1 l
Material
Aluminum
Country of Origin
USA
Style
Heavy Duty
Case Dimensions
5 in x 4.875 in x 11.875 in
EXPERTS GET IT RIGHT EVERY TIME.
"Being a client of Hazmatpac for the past 11 years, I would like to express my gratitude for flawless and dedicated service relative to all aspects of business: communication, timely assistance, attention to details, product availability and product quality. I strongly recommend my business entities to use your services."
SIMON KLEYNMAN, AMSPEC
CONTACT THE EXPERTS FOR QUESTIONS OR PRICING.
Call: 800-923-9123