HAZMAT SHIPPING IS
COMPLICATED AND RISKY
4 x 1.1 Liter Silver Aluminum Bottles and Caps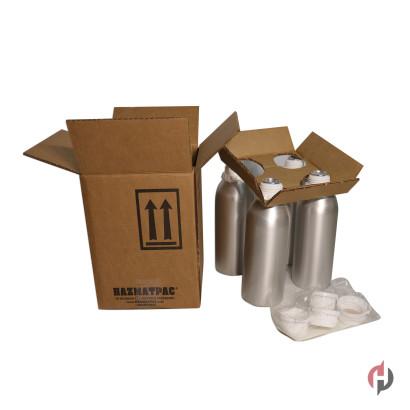 4 x 1.1 Liter Silver Aluminum Bottles and Caps
Stock #: UN2304TS
For pricing call: 800-923-9123
Hazmatpac is very pleased to announce the introduction of our new seamless no plug aluminum bottle line. Our bottles are made from the highest quality aluminum alloy with 99.5 % pure aluminum. Each bottle is made with over 10% more aluminum than the competitor's, or 15 grams. More aluminum means heavier wall thickness for a stronger, more durable bottle. You can feel the difference by squeezing the two bottles with your hands, Hazmatpac's is stronger. Our bottles are thoroughly cleaned by a ten minute Alkaline wash with three water rinses and baked dry at 90 to 100 degrees C. An independent laboratory tested our bottles with our Teflon-lined caps as required in CFR 49 section 173.27 pressure test. Hazmatpac's new no plug Teflon-lined cap maintains the standard opening size with eliminating the need for a plug. Hazmatpac also provides the best 4G outer box on the market. The complete packaging system comes completely assembled with all required components including the outer sealing tape. The outer box dimensions are 8" x 8" x 11".
4 x 1.1 Liter Silver Aluminum Bottles and Caps
Name
4 x 1.1 Liter Silver Aluminum Bottles and Caps
Hazmatpac Category
No Plug Pure Aluminum Bottles
Country of Origin
USA
Cap
Teflon Lined Cap
EXPERTS GET IT RIGHT EVERY TIME.
"I must say that Hazmatpac is the company that I will always go-to for my hazardous materials. They have proven to have high-quality items, competitive pricing, and excellent customer service. All of these things are very important to me because I expect all of our hazardous products to be shipped in a timely manner, adhere to shipping regulations, and ensure they arrive at our clients safely. You will be very impressed to order your supplies with Hazmatpac."
MARK COOPER, SOUTHWESTERN RESEARCH INSTITUTE
CONTACT THE EXPERTS FOR QUESTIONS OR PRICING.
Call: 800-923-9123