HAZMAT SHIPPING IS
COMPLICATED AND RISKY
2 x 1 Pint Paint Can Shipper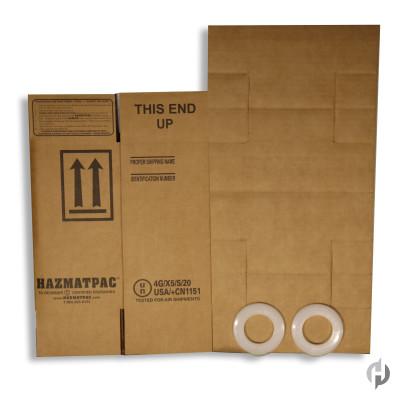 2 x 1 Pint Paint Can Shipper
Stock #: UN8200 Pint
For pricing call: 800-923-9123
The 2 x 1 Pint Paint Can Shipper comes complete with everything shown here. This kit is also available without cans. Ask your Sales Representative for more information regarding the box-only option.
2 x 1 Pint Paint Can Shipper
Name
2 x 1 Pint Paint Can Shipper
Hazmatpac Category
Paint Can Shippers
Capacity
1 pt
Country of Origin
USA
Style
Paint Can
UN Rating
4G/X5/S/20/USA/+AA7096
EXPERTS GET IT RIGHT EVERY TIME.
"Your company offers easy and ready-to-go packaging for us to do it safely and securely. This has cut down our preparation time significantly. In addition, your representatives are very knowledgeable and understand well what we need. The responsiveness, professionalism, and commitment that Hazmatpac offers to its customers deserve to be commended. "
JOHNNY YU, NEPSCO, LLC
CONTACT THE EXPERTS FOR QUESTIONS OR PRICING.
Call: 800-923-9123