HAZMAT SHIPPING IS
COMPLICATED AND RISKY
Hazmatpac 55 Gallon Universal Spill Kit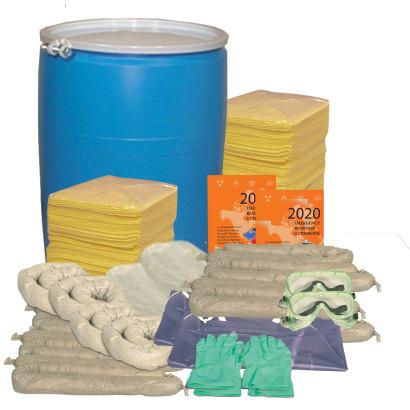 Hazmatpac 55 Gallon Universal Spill Kit
Stock #: SPKIT55GAL
For pricing call: 800-923-9123
Hazmatpac's Spill Kits include Universal Absorbent Material and other equipment required to handle most chemical spills. All kits are designed for the shipment of the waste material after the cleanup has occurred.
This Kit Includes:
Instructions
Nitrile Gloves (2 Pairs)
2 Vinyl Aprons
Vinyl Sleeves (2 Pairs)
Safety Goggles (2 Pairs)
2 Emergency Response Guidebooks
2 - 6 MIL Poly Bag
150 – 1 Sq. Ft. Pads
50 – 2 Sq. Ft. Pads
15 – 4 FT. Socks
55 Gallon Plastic Container (1H2/Y250/S/20)
Hazmatpac 55 Gallon Universal Spill Kit
Name
Hazmatpac 55 Gallon Universal Spill Kit
Hazmatpac Category
Spill Clean-Up Supplies and Kits
Capacity
55 gal
Country of Origin
USA
Style
Spill Kit
EXPERTS GET IT RIGHT EVERY TIME.
"Hazmatpac helps me identify and obtain the items requested and ensures we get the very best price. Being able to trust someone with great quality and on-time deliveries is priceless."
LOIS LOVELL, HALTERMANN SOLUTIONS
CONTACT THE EXPERTS FOR QUESTIONS OR PRICING.
Call: 800-923-9123