HAZMAT SHIPPING IS
COMPLICATED AND RISKY
Hazmatpac 5 Gallon Universal Spill Kit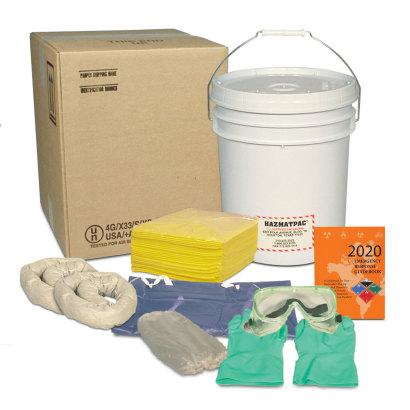 Hazmatpac 5 Gallon Universal Spill Kit
Stock #: SPKIT5GAL
For pricing call: 800-923-9123
Hazmatpac's Spill Kits include Universal Absorbent Material and other equipment required to handle most chemical spills. All kits are designed for the shipment of the waste material after the cleanup has occurred.
This Kit Includes:
Instructions
Nitrile Gloves (1 Pair)
Vinyl Apron
Vinyl Sleeves (1 Pair)
Safety Goggles
Emergency Response Guidebook
4 MIL Poly Bag
25 – 1 Sq. Ft. Pads
2 – 4 FT. Socks
5 Gallon Plastic Pail
4G Shipping Container
Hazmatpac 5 Gallon Universal Spill Kit
Name
Hazmatpac 5 Gallon Universal Spill Kit
Hazmatpac Category
Spill Clean-Up Supplies and Kits
Capacity
5 gal
Country of Origin
USA
Style
Spill Kit
EXPERTS GET IT RIGHT EVERY TIME.
"Hazmatpac has been providing an exceptional line of products to our company for more than 10 years. The highest level of service combined with a great product makes for a win-win situation."
TERRENCE BYBEE, SOLVAY
CONTACT THE EXPERTS FOR QUESTIONS OR PRICING.
Call: 800-923-9123