HAZMAT SHIPPING IS
COMPLICATED AND RISKY
Hazmat Vinyl Labels Multipack MP12, 500/Roll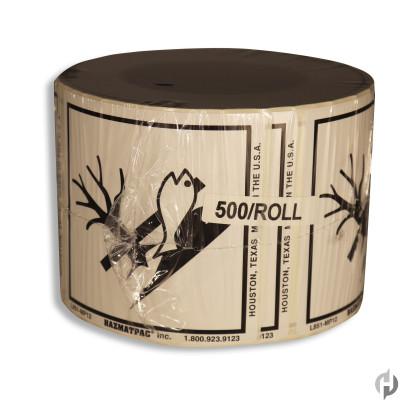 Hazmat Vinyl Labels Multipack MP12, 500/Roll
Stock #: MP12 / L-851
For pricing call: 800-923-9123
Hazmatpac's hazardous material labels are 4" x 4" unless a different size is required and comply with 49 CFR, D.O.T., United Nations, IATA, ICAO, and IMDG regulations. Labels are printed on durable coated paper or vinyl which comply with all exposure requirements.
Additional Pack-Out Options:
Vinyl -
L-853 - 100 Count
L-851-MP - 1000 Count Multipack
Hazmat Vinyl Labels Multipack MP12, 500/Roll
Name
Hazmat Vinyl Labels Multipack MP12, 500/Roll
Hazmatpac Category
Shipping Labels and Placards
Material
Vinyl
Country of Origin
USA
Style
MP12
Quantity
500/Roll
Length
4 in
Width
4 in
EXPERTS GET IT RIGHT EVERY TIME.
"Dhake Industries has been doing business with Hazmatpac for 16 years. They have always provided excellent customer service and great turnaround time."
S. DHAKE, DHAKE INDUSTRIES
CONTACT THE EXPERTS FOR QUESTIONS OR PRICING.
Call: 800-923-9123